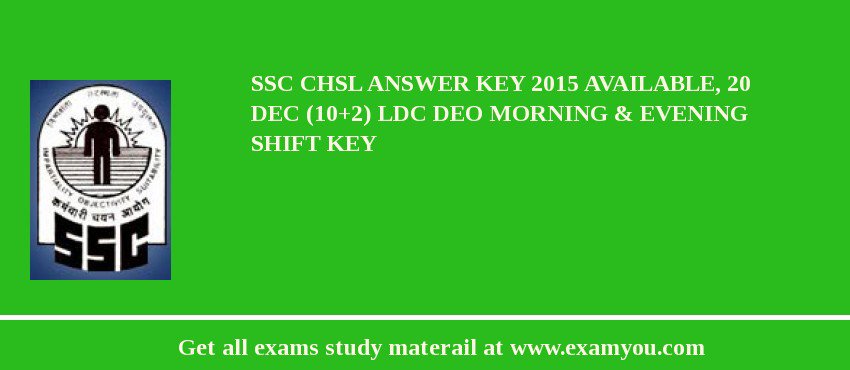 SSC CHSL Answer Key 2017 Available, 20 Dec (10+2) LDC DEO Morning & Evening Shift Key :
SSC CHSL Answer Key 2017 of 20th December 2017 would be released soon by staff selection commission of LDC DEO Exam on main portal site at vacancycollection.nic.in so those candidates who have appeared in this examination can download set wise official answer key from online as well from here.
We are all aware from your curiosity to get official chsl answer key 2017 of 3rd, 15th November 2017 but as of now there is no news yet available regarding to this so in this case it is always better to get unofficial answer key but from reliable sources. We have updated chsl answer key of 3rd Nov 2017 and also 15th Nov 2017 below and will update 6th Dec 2017 as soon as we got from online so bookmark this page for instant access to your answer sheet.
SSC CHSL Answer Key 2017 (Morning Shift) – 20th Dec Exam
Q.No.
TF No.
9115800
TF No.
9126711
TF No.
9126687
TF No.
TF No.
1
A/C
D
C
2
A
C
C
3
B
D
D
4
D
D
B
5
A
D
C
6
C
C
B
7
C
A
D
8
A
A
A
9
B
B
A
10
C
B
B
11
D
D
D
12
D
B/D
A
13
A
D
B
14
D
B
A
15
A
C
D
16
C
C
B
17
B
C
D
18
A
B
D
19
D
D
A
20
B
D
D
21
B/C
D
D
22
B
A
D
23
C
D
B/D
24
A
C
A
25
C
C
A
26
A
D
A
27
D
A
D
28
A
C
A
29
C
A
D
30
D
A
A
31
A
D
A
32
A
C
C
33
B
C
C
34
A
D
A
35
A
D
C
36
B
D
B
37
C
D
B
38
C
B
A
39
B
D
B
40
D
C
B
41
B
D
C
42
C
C
B
43
C
B/D
B
44
D
D
A
45
D
C
B
46
C
B
B/C
47
D
A
B
48
A
C
D
49
A
C
D
50
B
A
D
51
B/C
A
B
52
C
A
B
53
B
A/C
A
54
C
B
A
55
C
B
A
56
B
D
B
57
A
D
D
58
B
D
A
59
A
A
B
60
C
B
C
61
A
B
D
62
B
C
D
63
C
B
A
64
A
A
B/C
65
D
B
B
66
D
B
A
67
B
D
D
68
A
C
C
69
B
C
D
70
B
B
C
71
D
D
B
72
D
B
C
73
C/D
A
B
74
B
D
A/D
75
D
A
D
76
B
A
D
77
A
B
B
78
C
A
D
79
A
A
A
80
C
C
D
81
D
B
A
82
A
D
A
83
D
A
B
84
C
D
D
85
A
A
D
86
D
B/D
B
87
A
A
C
88
D
A
C
89
A
D
C
90
A
D
A
91
C
A
C
92
D
D
D
93
D
A
B
94
C
B
D
95
B
A
D
96
C
D
B
97
B
C
B
98
D
B
D
99
B
C
A
100
A
A
A
101
B
D
B
102
A
B
A
103
D
D
C
104
C
B
C
105
B
D
A
106
C
D
C
107
D
B
A
108
D
B
B
109
C
B
D
110
A
C
C
111
C
A
A
112
B
D
C
113
A
B
D
114
D
C
C
115
B
D
C
116
B
B
B
117
B
D
C
118
B
D
D
119
C
C
B
120
D
A
B
121
C
B
D
122
A
D
B
123
A
C
A
124
B
D
D
125
D
C
A
126
D
A
B
127
A
C
D
128
D
B
B
129
B
D
B
130
B
D
C
131
A
D
C
132
D
D
C
133
A
A
C
134
B
D
D
135
C
B
D
136
D
D
B
137
B
A
C
138
D
A
D
139
B
B
C
140
B
C
C
141
A
A
D
142
A
C
B
143
D
C
D
144
D
B
D
145
D
A
D
146
C
A
A
147
A
B
C
148
D
B
D
149
B
B
B
150
B
C
C
151
B
D
D
152
C
C
C
153
A
B
C
154
D
D
D
155
C
D
A
156
C
B
C
157
B
D
C
158
B
A
C
159
D
B
D
160
A
A
A
161
C
C
C
162
C
A
C
163
C
A
B
164
B
A
A
165
A
C
B
166
A
D
C
167
B
B
A
168
A
B
C
169
A
D
B
170
C
B
A
171
B
B
C
172
C
A
B
173
D
D
D
174
B
D
C
175
C
D
D
176
D
C
B
177
C
D
D
178
C
A
D
179
A
A
A
180
A
C
D
181
D
A
C
182
B
B
D
183
A
B
A
184
D
A
D
185
B
C
D
186
B
B
A
187
B
B
C
188
A
A
D
189
C
A
A
190
D
A
A
191
A
D
B
192
B
C
A
193
A
A
A
194
B
D
D
195
B
C
B
196
D
C
A
197
C
D
B
198
B
B
C
199
D
D
C
200
A
B
C
SSC CHSL Answer Key 2017 (Evening Shift) – 20 Dec Exam
Q.No.

TF No.
2427288
TF No.
2427269
TF No.
2445158

TF No.

TF No.

1
C
A
D
2
A
C
A
3
B
A
C
4
A
D
A
5
A
D
A
6
C
C
C
7
C
C
D
8
C
C
D
9
D
D
C
10
D
B
B
11
C
D
C
12
C
C
B
13
A
B
B
14
C
D
B
15
C
A
A
16
B
D
D
17
D
C
A
18
D
B
B
19
B
D
D
20
B
D
A
21
A
B
A
22
C
D
B
23
C
D
A
24
C
D
C
25
A
B
C
26
B
B
A
27
D
A
A
28
B
C
B
29
D
D
C
30
C
D
D
31
D
A
D
32
D
C
A
33
D
B
B
34
A
B
C
35
B
B
A
36
D
B
D
37
B
D
C
38
D
D
A
39
C
B
B
40
B
B
A
41
A
A
B
42
C
D
C
43
B
B
D
44
C
B
A
45
B
A
C
46
B
C
B
47
B
C
D
48
C
D
D
49
B
B
C
50
B
C
D
51
D
A
C
52
B/C
A
D
53
A
C
D
54
D
B
A
55
A
D
C
56
B
A
A
57
A
D
B
58
D
C
D
59
A
B
D
60
B
B
A
61
D
D
D
62
D
A
A
63
A
B
D
64
B
A
A
65
C
D
B
66
A
D
B/C
67
A
D
C
68
D
C
A
69
C
D
A
70
B
A
D
71
B
B
A
72
C
D
D
73
A
A
B
74
B
B
D
75
A
B
A
76
D
A
A
77
D
B/D
A
78
A
C
C
79
B
D
B
80
D
A
D
81
D
C
A
82
D
B
B
83
D
D
B
84
C
D
D
85
B
C
A
86
D
D
B
87
D
D
A
88
D
C
B
89
A
B
D
90
A
A
C
91
B
A
B
92
A
A
A
93
D
A
A
94
C
B
C
95
D
C
A
96
B
C
B
97
C
A
A
98
B
A
A
99
C
D
D
100
B
A
B
101
C
A
B
102
A
A
D
103
D
C
B
104
D
A
C
105
B
D
D
106
D
A
A
107
A
C
A
108
D
A
B
109
A
A
B
110
B
C
D
111
A
B
B
112
D
B
C
113
C
D
A
114
B
C
A
115
C
D
A
116
B
B
B
117
C
A
D
118
B
D
B
119
C
D
B
120
C
C
D
121
C
A
B
122
C
A
D
123
C
D
A
124
C
D
A
125
A
A
A
126
A
C
A
127
D
C
A
128
B
D
A
129
C
B
D
130
C
C
D
131
D
A
D
132
D
C
C
133
D
D
B
134
C
C
B
135
B
C
A
136
A
C
A
137
C
D
A
138
C
C
B
139
D
A
D
140
A
B
D
141
C
C
B
142
B
D
B
143
D
A
D
144
B
C
B
145
C
A
C
146
A
C
A
147
B
A
A
148
C
D
C
149
B
C
A
150
C
C
D
151
B
C
D
152
D
C
C
153
C
B
D
154
C
B
B
155
A
D
A
156
C
B
D
157
C
A
B
158
B
C
D
159
A
*
D
160
B
B
A
161
A
A
B
162
A
A
D
163
D
C
C
164
B
D
A
165
C
B
C
166
A
C
B
167
B
D
B
168
B
D
C
169
C
D
D
170
C
D
A
171
C
A
B
172
A
D
B
173
C
A
B
174
A
D
B
175
*
C
C
176
A
A
A
177
B
D
C
178
C
C
D
179
A
C
C
180
C
B
C
181
B
C
A
182
B
C
B
183
A
A
A
184
B
B
A
185
C
D
C
186
A
C
B
187
C
C
B
188
A
A
B
189
D
D
B
190
A
A
D
191
C
C
A
192
B
C
A
193
D
D
C
194
A
D
A
195
A
A
C
196
C
A
D
197
A
C
A
198
D
A
*
199
D
C
B
200
A
C
D
SSC CHSL Answer Key 2017 (Morning Shift) – 6th Dec. Exam
Q.No.
TF No.
1366170
TF No.
1357182
TF No.
1357176
TF No.
1357271
1
C
A
A
B
2
C
A
B
C
3
C
D
B
D
4
A
A
C
B
5
B
B
A
B
6
B
B
A
D
7
A
B
D
D
8
B
D
C
A
9
D
D
A
C
10
C
B
A
D
11
D
B
B
A
12
B
D
D
C
13
D
A
A
B
14
C
A
C
B
15
D
D
B
D
16
A
D
A
B
17
B
A
A
B
18
D
B
B
D
19
A
D
B
B
20
C
C
A
B
21
D
D
C
B
22
A
A*
C
A
23
D
D
C
C
24
C
C
D
C
25
D
D
A
D
26
D
A
A
C
27
A
D
D
C
28
C
A
D
D
29
B
C
A
B
30
C
C
D
D
31
A
A
A
D
32
C
B
D
B
33
D
B
C
D
34
C
D
A
B
35
D
D
D
B
36
D
D
A
B
37
A
C
A
C
38
D
B
D
D
39
C
C
C
A
40
B
C
A
A
41
B*
D
B
B
42
B
D
B*
C
43
A
B
C
A
44
A
D
C
B*
45
C
A
B
C
46
D
C
C
A
47
A
C
B
C
48
B
D
A
A
49
B
A
C
D
50
D
B
C
C
51
B
C
D
B
52
C
C
C
C
53
B
D
C
D
54
A
C
C
C
55
D
A
D
C
56
A
A
B
C
57
B
B
B
B
58
B
B
B
A
59
D
D
B
D
60
D
C
A
B
61
A
B
C
C
62
D
C
D
B
63
D
D
B
A
64
C
D
D
A
65
D
&nb